Idina Menzel, was the first Elphaba on broadway, she is 44 years old, and has a younger sister named Kara. Idina Menzel also did the voice of Elsa, a major character in the movie Frozen, Idina Menzel was also in the play Rent as well as other things, her birthday is May 30, she also was in the Rent movie , as the same part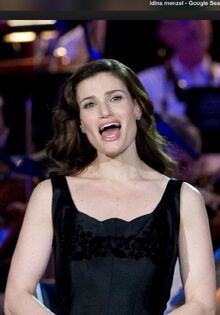 she had when it was a show. She was also Elsa in the short film Frozen Fever she came with her own Christmas album last year, and has wrote some of her own songs in the past. She also took the 't' out of her last name, as though the 't' made no sound in her name, many were thinking the 't' was not silent, so she took it out of her last name, Menzel, which was, at one point, Mentzel.
She was also on the show The Chew and has a part on the TV show The Wonder Pets as well as a part the TV show Glee she has a 5 year old son, named Walker. As well as being Wicked the play,she read the wicked book. She was also in other films, such as Just a Kiss, Kissing Jessica Stein, The Tollbooth, Water, Ask the Dust, and Enchanted.
In Wicked Idina Menzel was the main character, Elphaba, on the show would have been her second to last show, ended up as her last, after a two year run, with a plan to leave to be in the Rent movie. In one show, during the melting part of the show, the trap door, that both the witch, as well as the actress, fall down, with her feet in the wrong place, she fell down the door, she was able to hold herself up, but did so with her rib. She was pulled out the whole, and left to see what she had done to her rib. She had broken it, but came back the next day to do the son For Good
West end
Edit
After the Rent movie, Idina returned to Wicked in west end, she was there for plenty of months, and was taken over by another actress.